Well, here goes nothing… my first blog post for Pidola!  Feedback is welcome… 🙂
Yesterday, May 10th, I went down to Washington DC to visit our friends at the Bolivian embassy. I was back East to surprise my mom for Mother's Day, so I figured I'd take some time and head to both DC and New York to get in some Pidola work.  I hadn't been this far south in atleast over a decade, so was curious and a bit excited for the trip.
Heading down was quick and dirty.  Woke up early, stopped for breakfast and coffee, and made it into town right around 10:30.  I had to take a couple of quick calls before I went to the embassy, so found a parking spot and handled some business.  The folks at the Guinea embassy were not too happy with me parking in front of their "mansion", but I convinced the gentlemen to let me perch for 20 minutes.
After the calls, I headed for the Bolivian embassy!  That area of DC is reallynice.  I passed right through the mall (saw the Washington Monument, Jefferson and Lincoln Memorials, and the Capital building) and ended up in a neighborhood of a bunch of other embassies.  Brazilian, South African, New Zealand, English, Italian… they were all close by.  Yeah, I fit right in with all the diplomats walking around.
The Bolivian embassy was in a nice building.  I used out tried and true tactic of just walking right up to the front door!  I rang the doorbell and spoke briefly to a gentleman who gave me better directions to walk around the back.  I passed a sign that said "#SeaForBolivia, which I really appreciated…  if you don't already know, Bolivia has been working at The Hague to present their case for access to the Pacific Ocean.  Bolivia lost their access to the coastline in the early 20thcentury and has been trying to get it back for over a century.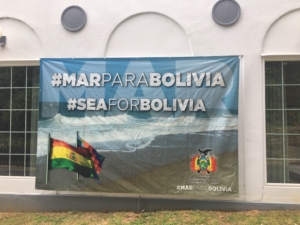 Walking around back, I found the main door, and spoke to a nice lady who I asked who I can speak with surrounding a new business in Bolivia.  The right people were either in a meeting, or not at the embassy, so I just dropped off my packet with some contact information for me to follow up with. Not the best-case scenario but dropping off the documents about Pidola was the primary goal.
All and all, a good trip to DC.  I couldn't nail down the audience I wanted to speak with but building the awareness around Pidola is important at this point.  I'll be following up with them, and we hope that trip will eventually turn fruitful in the near future!
PS – How'd I do with my first post??
https://www.pidola.org/wp-content/uploads/2018/04/Screen-Shot-2018-04-19-at-10.41.04-AM-152x300.png
0
0
Lou Fabian
https://www.pidola.org/wp-content/uploads/2018/04/Screen-Shot-2018-04-19-at-10.41.04-AM-152x300.png
Lou Fabian
2018-04-19 14:08:21
2018-05-11 05:44:09
in Washington DC