Well, I've made the long trip back States' side, and enjoying my first few days in Colorado. I'm actually staying at my aunt's house in Conifer, which is a beautiful corner of the world. It's always nice to spend time here and soothe the soul a bit… can't beat the views for your morning coffee!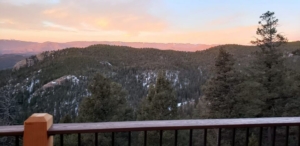 We are marching right along with all of Pidola's efforts; both in the US and in Bolivia. One of the activities that I mentioned last week was to get the key Bolivian partners together and participate in a roundtable discussion surrounding our projects (specifically in Villa Tunari). As usual, that process is taking a bit of time, but still hopeful to have that meeting and discussions in mid-June. Coordinating a meeting is never easy, no matter what country you're in!
A few other updates with Pidola are:
We have our monthly Board of Directors meeting on the 21st, which I always enjoy. Especially now that I can attend in person!
We've received some good feedback from our teacher friends in Pampa Jasi. They could use some more computers, which we'll be on the hunt for in the coming weeks
Surrounding the Villa Tunari locations, we're continuing to "spec" the projects out, which will help budget and planning
I'm working to get Pidola invited to a 4thof July party in Santa Cruz, Bolivia. That would be a great networking event for us to attend, and find potential investors
Lots and lots of admin work (accounting, legal, formation), which I won't bore you with. 🙂
Last but not least, Michelle is getting married in a few weeks! That's one of the reasons why I'm back in the US, and we're all thrilled for the wedding… it's going to be fantastic. That post will be entertaining, for sure!
https://www.pidola.org/wp-content/uploads/2018/04/Screen-Shot-2018-04-19-at-10.41.04-AM-152x300.png
0
0
Lou Fabian
https://www.pidola.org/wp-content/uploads/2018/04/Screen-Shot-2018-04-19-at-10.41.04-AM-152x300.png
Lou Fabian
2019-05-09 07:42:08
2019-05-09 07:42:09
In Conifer