Oh, Vegas.  I'm back in the Silver State for a website development conference.  It's been a good, but long week already with lots of meetings, sessions, and a few phone calls sprinkled in.  For me personally, it's always nice to catch up with people that I work with on daily/weekly basis.  When working remote, I never get that all-important face-time.  Plus, zero time spent in the hospital so far!  Yeah, that's an entirely different blog post…
Here's a photo of me on-stage during one of the sessions; the stick figure on the right.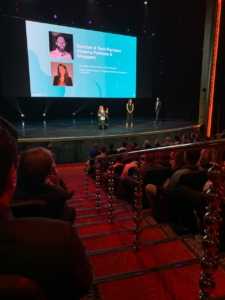 Pidola is moving right along, just a bit slower this week than the previous weeks. That necessary, albeit "boring" admin work gobbled up some of our time last week. We're always looking to save money and streamline costs, which we've accomplished by cleaning up some of our website operations and requirements. Always looking to pinch those pennies!
A few other notes and follow-ups from last week:
We have our Board of Director's meeting on Tuesday, which I'm excited to see everyone!
We're still working on the 4thof July networking party in Santa Cruz (Bolivia); hoping the invite is in the mail.
Over the next 7-10 days, we're working to finish spec development of our La Mision project location. That way, we can get our budget and project plan together.
Michelle and I have some investor meetings lined up here in the coming weeks, so send us good vibes!
Next week is our big week in Moab for Michelle's wedding. All of us are super excited to celebrate, and I'll share some of those activities ASAP!
https://www.pidola.org/wp-content/uploads/2018/04/Screen-Shot-2018-04-19-at-10.41.04-AM-152x300.png
0
0
Lou Fabian
https://www.pidola.org/wp-content/uploads/2018/04/Screen-Shot-2018-04-19-at-10.41.04-AM-152x300.png
Lou Fabian
2019-05-14 06:27:16
2019-05-14 06:27:17
In Las Vegas