It's been a great week for the Pidola Team.  First and foremost, Michelle is now officially married!  A group of us went to Moab (a town in Utah) to help her, Jeff and many friends and family celebrate their wedding.  They did a wonderful job with the event, and everyone had a great time… including yours truly.  Congrats to Michelle and Jeff!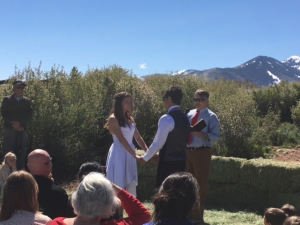 Also, the Pidola Team had our monthly Board of Directors meeting on the 21st. For me, it was great to attend in person! One of the reasons for me to be in the US over the last few weeks was to participate and get some much-needed face-time with the rest of the team. As always, it was productive, and we got a lot accomplished in just a quick two hours.
A few of those updates and discussions from the last Board meeting were about:
We are planning another party on July 11th (in Denver), which we'll be able to share the latest updates with our sponsors and donors.  More to follow here shortly.
I provided an update on the July 4thevent in Santa Cruz (Bolivia), and Pidola will be in attendance!  Fingers crossed my networking skills are strong.
The team continued to work on planning and budgeting for both La Mision and San Jose, the two communities we visited in April.
Discussions were also held on additional avenues for the Pidola Team to fundraise and bring-in project funds.
The next few weeks will be busy for all of us, so we'll keep you posted with the progress. Also, my brother Larry will be visiting Bolivia, so hopefully he'll have a fun and exciting trip!
https://www.pidola.org/wp-content/uploads/2018/04/Screen-Shot-2018-04-19-at-10.41.04-AM-152x300.png
0
0
Lou Fabian
https://www.pidola.org/wp-content/uploads/2018/04/Screen-Shot-2018-04-19-at-10.41.04-AM-152x300.png
Lou Fabian
2019-05-27 13:01:22
2019-05-27 13:01:23
In Moab