It was another morning that I was up painfully early.  So I figured I would go to El Alto, the sister city of La Paz, and see the sunrise before work got started.  Plus, for one of the larger indigenous groups here in Bolivia, the Aymara, June 21st is their New Year.  Many will go to different spiritual locations (i.e. Tiwanaku) all throughout the country for the sunrise, for the Winter Solstice.  As you can see, it was a crisp, clear morning… the chickens and I were the only ones up!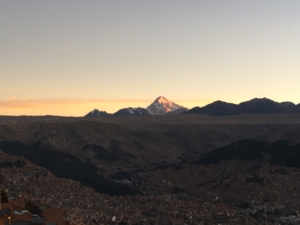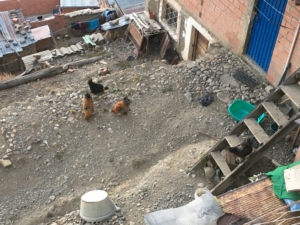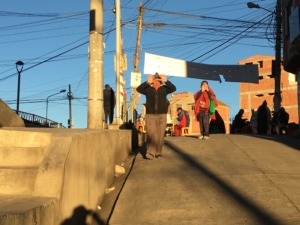 This week was primarily a preparation week for Pidola.  The first event we're preparing for is our US Embassy/July 4th event in Santa Cruz.  As I mentioned last week, we received our formal invite for next weekend's activities.  I say activities since there's not only the networking event, but Pidola was also invited to sponsor and participate in the Habitat for Humanity efforts the morning before!  We gladly accepted… and lots of pictures to follow.
The second event over the next few weeks is another trip back into the jungle.  On July 3rd, I'll be traveling to Rurrenabaque (aka Rurre) to visit two more site locations.  These locations were generated from the trip with my brother to Madidi, where our guide mentioned he may have some ideal project locations for Pidola.  It will be a three-hour boat trip to get there!  Yes, more pictures will be taken.
The last "larger" effort we're preparing for is our event in Colorado during the month of July.  It was originally planned for July 11th, but we're changing this date to either July 22nd or July 25th.  Formal notices will be shared with everyone once the day and venue are finalized.  I'm personally excited since it will be great to see people I haven't seen in over a year.
Whenever you read this post, we hope it finds you doing well! More to come next week.
https://www.pidola.org/wp-content/uploads/2018/04/Screen-Shot-2018-04-19-at-10.41.04-AM-152x300.png
0
0
Lou Fabian
https://www.pidola.org/wp-content/uploads/2018/04/Screen-Shot-2018-04-19-at-10.41.04-AM-152x300.png
Lou Fabian
2019-06-21 07:17:29
2019-06-21 07:17:30
In El Alto