This was the first week in almost six that I spent the entire time in La Paz!  It was nice for the routine, but it's always a grind getting back into the swing of things.  I spent most of the time in an area of La Paz called El Prado, which translates into "The Meadow".  It's essentially the area of town with most of the main commercial buildings; the down-town, if you will.  There are plenty of zebras to help you across the busy streets!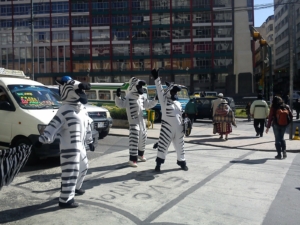 When spending time in El Prado, I usually have lots of in-person meetings. The Ministry of Education is there, the school where I take my Spanish classes is nearby, our bank we use (BNB), etc. This week, the key meeting was with the US Embassy. I will say it's always nice (and less pressure!) to simply speak in English.
Pidola received our formal invite to the Embassy event in Santa Cruz, which allows US-based multi-national companies with a presence in Bolivia, to celebrate the July 4th Holiday.  Little ole Pidola will be there to network and hopefully make some strong donor/sponsor connections.  Fingers crossed that yours truly can make it work!
Other highlights from this week:
We've made arrangements to return to a town called Rurrenabaque, and to visit a couple new, potential project locations.  That will happen early July
We had our monthly Board of Directors meeting on the 12th, which as you know, is always productive.  This month our focus was mainly on fundraising
Our project budget framework for La Mision is being developed; we're getting close. The project plan will be developed shortly thereafter
Our July 11th event back in Denver is coming together.  Please watch your inboxes for your invite!
We have a lot going on in July, so the planning and preparation efforts are well underway. As always, I'll share updates next week; have a nice weekend!
https://www.pidola.org/wp-content/uploads/2018/04/Screen-Shot-2018-04-19-at-10.41.04-AM-152x300.png
0
0
Lou Fabian
https://www.pidola.org/wp-content/uploads/2018/04/Screen-Shot-2018-04-19-at-10.41.04-AM-152x300.png
Lou Fabian
2019-06-14 05:17:57
2019-06-14 05:17:58
In El Prado